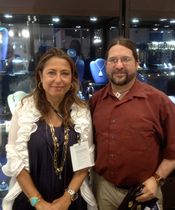 Lika Behar and Kris Schmid
April 8th marked the 20th anniversary of my mother, Nora Diehl Schmid's death. The family business has since been in my hands. We've had a lot of ups and downs in those years. We survived the recession of the 90's, 9/11, years of war, the 2008 market collapse and the massive market correction of gold.
Unfortunately after a good 2011, 2012 slowed down for us yet again and then hurricane Sandy hit, devastated the area, hurt our customers and friends and wiped out the last quarter. 2013 was looking ok until summer when business for us just died. This time it is not survivable.
We are currently
Closed
. Being the oldest retail business in town, this has been the most devastating decision I have ever faced. I thank all of our wonderful customers and friends who have bought jewelry through all these years, we love you and will miss you all greatly.
We will continue to offer the Tribal Collection, Original Collection, and the One-of-a-Kind Collection on this website as well as support for our Add-a-Link customers.
Join us on
Diehl's Jewelers Facebook
and get information on what is next for us.